Merritt Manufacturing Company (1901)
Merritt Manufacturing Company was a business founded in early 1901 by Matthew M. Merritt in Middleton, Massachusetts, to renew burned-out light bulbs. On July 31, 1901, Frank A. Poor, investing $3,500, became half-owner of the small company. In November of 1901, due to dwindling resources, Merritt sold his half of the company to Frank Poor for $750.
Bay State Lamp Company (1901-1913)

Shortly after becoming the sole owner of Merritt Manufacturing, Poor moved the operation to Danvers, Massachusetts and renamed it to Bay State Lamp Company. Frank was joined by his brother, Edward, and in 1907 the company was officially incorporated. The company remained active until 1913 when the renewal portion of the business was abandoned.
Hygrade Incandescent Lamp Company (1909-1931)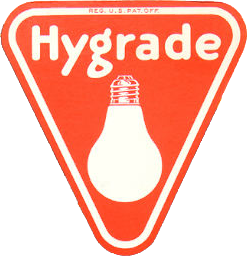 In 1909, Hygrade Incandescent Lamp Company was organized to produce and sell new incandescent lamps. This was an important leap for the future of the company, however, it was done for the simple matter that the future of the renewal market was uncertain. Walter E. Poor joined the company in 1911 as it's first full-time engineer. He brought to the company a strong emphasis on high quality, which so